Find out more about the latest themes we are making.
What Theme Suits Your Browser?

Find a theme that suits your taste and matches your interests! We offer many beautiful premium and free themes.
Who We Are

We're dedicated to making new and beautiful themes so you can customize your browser any time you want!
ChromeThemesEX

We want you to feel expressive when you open your browser.
​Let your passion show with any of our amazing themes.
What Our Clients Are Saying
Luxurica @Google+
Learn more about what we're doing.
"Will you decide what men shall live, what men shall die? It may be that, in the sight of Heaven, you are more worthless and less fit to live than millions like this poor man's child. Oh, God! to hear the Insect on the leaf pronouncing on the too much life among his hungry brothers in the dust!" - Charles Dickens, A Christmas Carol
Powered by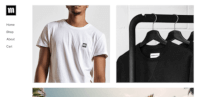 Create your own unique website with customizable templates.